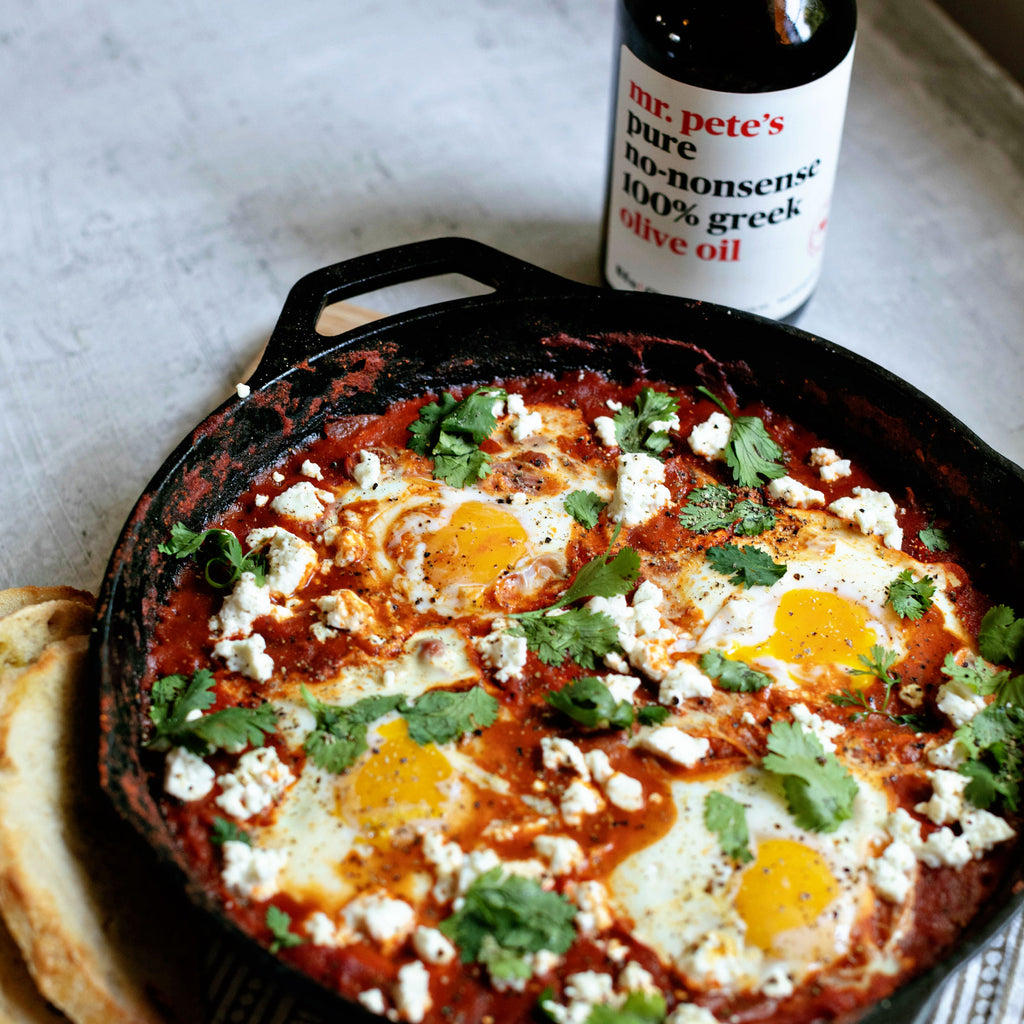 from the kitchen of mr. pete's
Recipe from Home Cooking NY 
Essentials 

2 tablespoons mr pete's olive oil
1 large onion, thinly sliced
1 large bell pepper, deseeded and thinly sliced
3 garlic cloves, thinly sliced
1 tablespoon ground cumin
1 tablespoon  coriander
1 tablespoon smoked paprika
⅛ teaspoon cayenne (optional) 
28 oz can whole peeled tomatoes, juice discarded
1 teaspoon sea salt 
½ teaspoon of black pepper
4 eggs or as needed, at room temperature 
¼ cup finely cilantro for garnish
¼ cup crumbled feta for garnish
Process
Heat mr. pete's oil in a large skillet over medium - low heat.
Add onion and bell pepper. Cook gently until soft, about 20 minutes.
Add garlic and cook until tender, 1 minute.
Add cumin, coriander, smoked paprika, and cayenne and fully incorporate spice to coat mixture.
Strain tomatoes to discard the juice. In another bowl, hand crush the tomatoes. Once crushed, add to skillet and simmer until tomatoes have thickened, about 10 minutes.
Remove pan heat. Make small wells in the sauce with a spoon and crack each room temperature egg into a well.
Cover the pan and continue to cook on medium to low heat until the eggs set, about 5-7 minutes. Tip: Keep a close watch and be sure to rotate the pan for eggs to cook evenly.
Garnish with crumbled feta and cilantro. 
Serve with crusty bread or pita.
Enjoy!
Continue Reading