grilled heirloom tomato and feta panzanella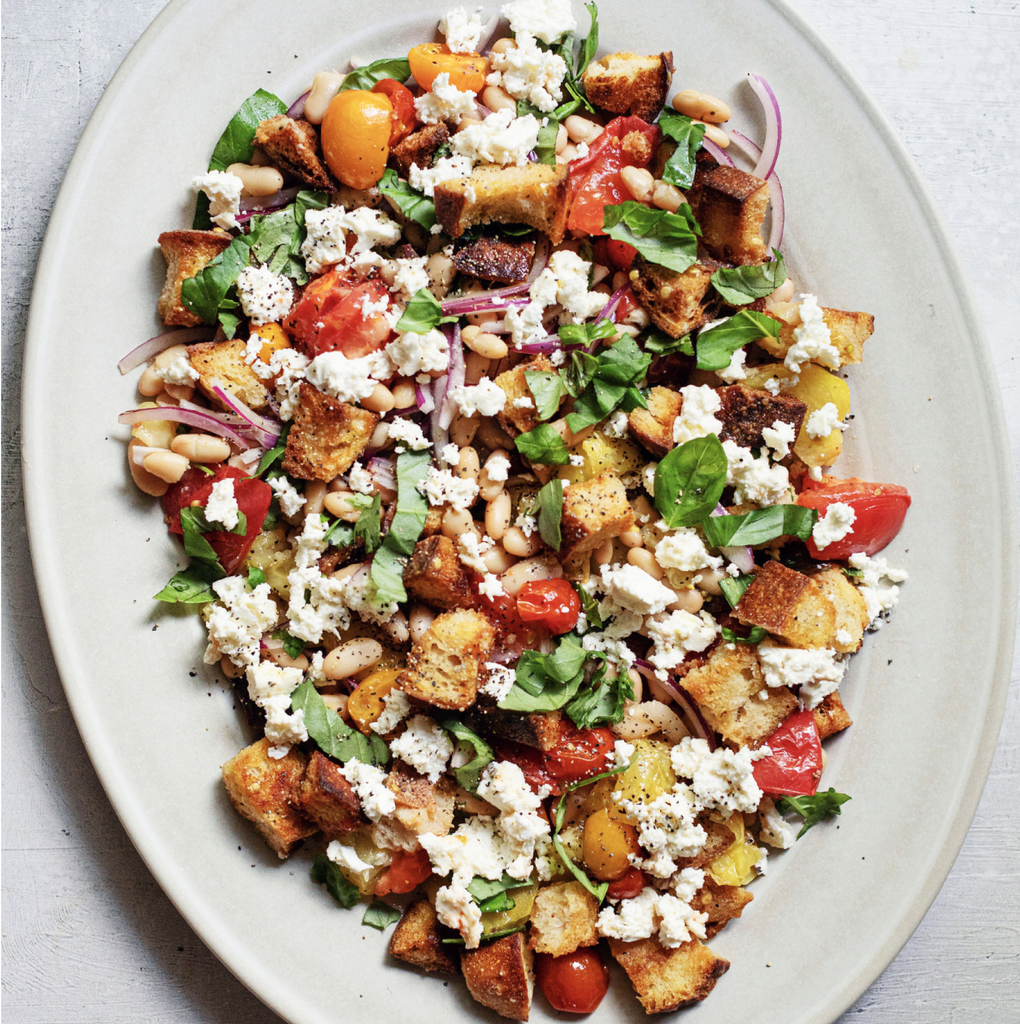 from the kitchen of mr. pete's
Essentials for the Croutons

4 ounces sourdough bread, cut into 1-inch slices
2 tablespoons mr. pete's olive oil
⅛ teaspoon sea salt
⅛ teaspoon black pepper
Essentials for the Salad

1 pound heirloom tomatoes, halved
1 handful of cherry tomatoes, halved
4 garlic cloves, peel and crushed
3 tablespoons mr. pete's olive oil
1/4 cup mr. pete's olive oil, divided
1 (3-oz.) block feta cheese
1/4 teaspoon sea salt
1/4 teaspoon black pepper
1 (14.5-oz.) can unsalted cannellini beans, rinsed and drained
1/2 cup thinly sliced red onion
1/2 cup chopped fresh basil leaves
2 teaspoons red wine vinegar


Process

Preheat the oven at 400. Cut sourdough bread and toss with bread with mr petes olive oil, salt and pepper in a bowl. Spread the bread out on a sheet pan with parchment paper. Cook for 10 minutes, then flip and cook for another 10 minutes.


Meanwhile, cut heirloom tomatoes, cherry tomatoes, and block of feta cheese to size, set aside. Peel and crush garlic cloves.


In a small cast iron, add halved cherry tomatoes, crushed garlic, salt, pepper, and two tablespoons of mr. petes. Place cast iron on the grill and roast for 10 minutes. Meanwhile, brush olive oil on the feta block and brush heirloom tomatoes with mr petes. Place tomatoes and feta on grates; grill until charred on both sides, 2 minutes per side (nothing more, nothing less). Transfer to a plate, and sprinkle evenly with salt and pepper. Let cool 2-3 minutes; cut larger tomatoes into chunks.


Combine both chunked heirloom and cherry tomatoes, bread, beans, onion, basil, vinegar, and remaining 3 tablespoons oil in a large bowl; gently toss. Serve on a platter to accompany other appetizers or a BBQ spread; crumble feta evenly over top and extra basil, if you have leftovers. Serve immediately.