mr. pete's potato and feta omelette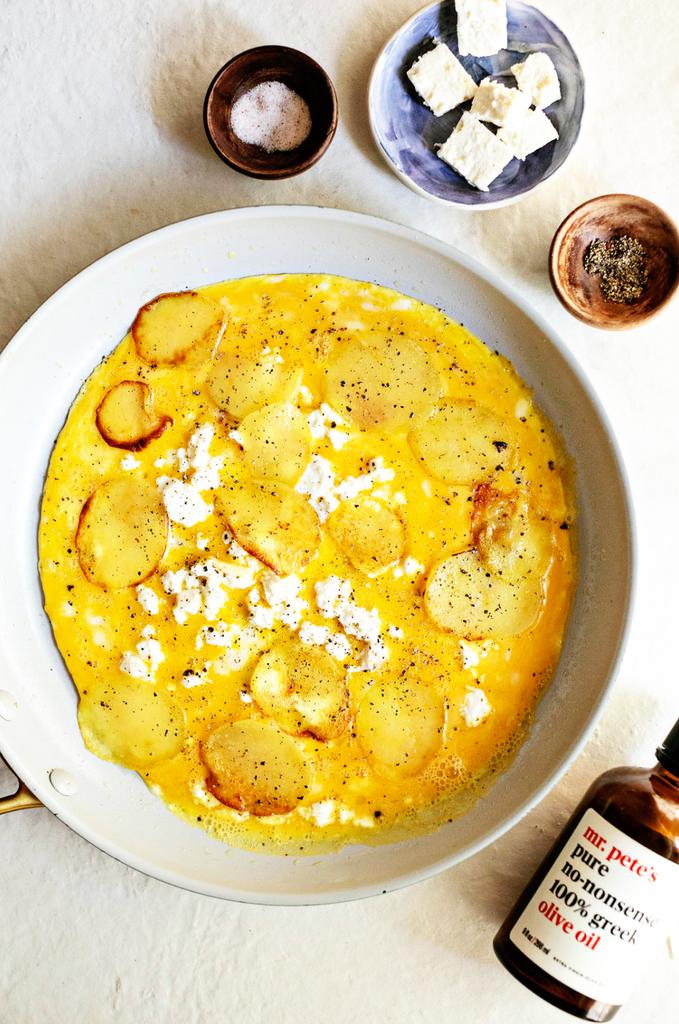 from the kitchen of mr. pete's
Essentials 

- 1 medium Yukon Gold potato cut into thin slices
- 1 teaspoon salt for the water
- 3 eggs
- generous drizzle of mr. pete's Special Use olive oil
- crumbled feta cheese 
- pepper and mr. pete's classic sea salt to taste
- 1/2 small garlic clove minced
-1 teaspoon flour for a fluffy omelette 
- 8-9 inch non stick pan 
Process

Peel the potato and cut it in half. Cut those halves into thin slices and place them in a pot of salted water. Boil until tender, drain and set aside 
In a pan on medium-low heat add a generous drizzle of mr. pete's Special Use olive oil and minced garlic 
Whisk  2 eggs and baking powder for a few minutes in a bowl and pour them into the pan. Let eggs coat the pan and cook for approximately 1 minute or until eggs  settle
Evenly add potato slices to top of eggs and allow to cook for approximately 2 minutes
Add crumbled feta and cook for 30 seconds 
Carefully flip one side over and cook for approximately 1 minute 
Flip over to other side and cook for 1 minute 
Finish off with a pinch of pepper and mr. pete's classic sea salt to taste - enjoy!