100% greek traditional lentil soup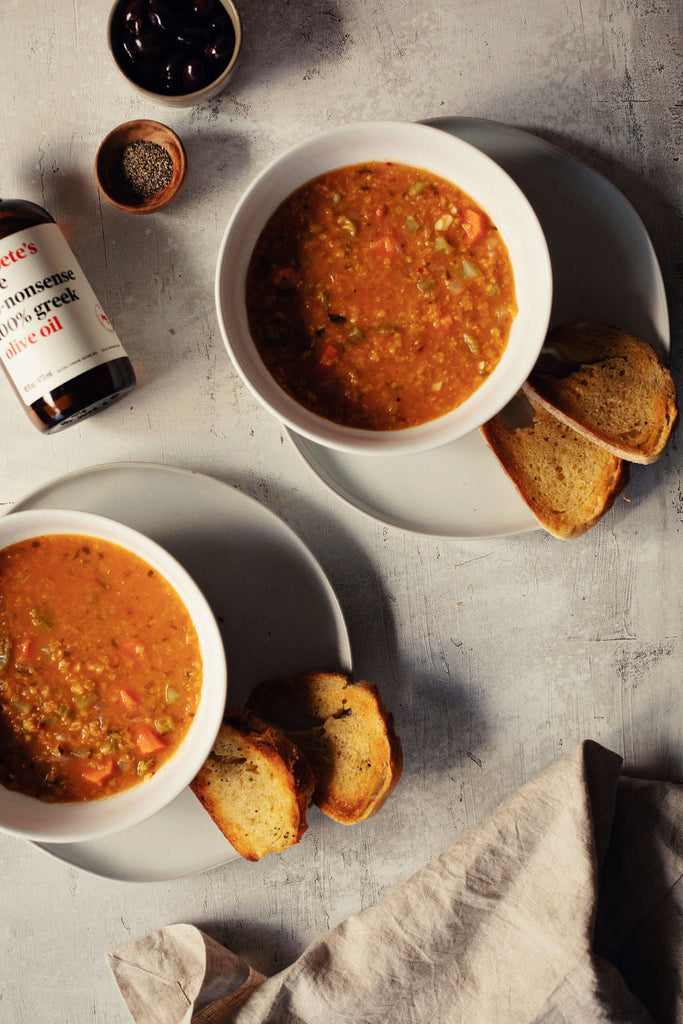 from the kitchen of mrs. pete's
Essentials 
2 cups small dried lentils
1 large carrot
1/2 cup chopped celery 
1 large onion
1 large chopped garlic clove 
2 tablespoons chopped fresh parsley leaves 
2 dried bay leaves 
1/2 cup mr.pete's
1 tablespoon tomato paste
8 oz canned tomato sauce
1 ½ teaspoon sea salt
½ teaspoon freshly ground black pepper
2 tablespoons red wine vinegar
Pinch of crushed red pepper

Process
Soak 2 cups of small dried lentils in warm water for 2 hours. Strain lentils and then rinse with cold water for 3 minutes.
Add lentils to fresh pot of 5 cups of cold water along with 1 large peeled and chopped carrot, ½ cup chopped celery with leaves, 1 large finely diced onion, 1 large chopped garlic clove, 2 tablespoons chopped fresh parsley leaves, and 2 dried bay leaves.
Cover pot and cook for approximately 30 minutes under medium heat.
At 30 minute mark add ½ cup mr. pete's, 1 large tablespoon tomato paste, 8 ounces canned tomato sauce, 1 1/2 teaspoon sea salt, ½ teaspoon freshly ground black pepper, 2 tablespoons red wine vinegar and a pinch of crushed red pepper.
Stir and cook for approximately 15 min under medium heat or until lentils are tender.
Remove bay leaves and serve with a drizzle of mr. pete's, crusty bread and kalamon olives.
Serves 6 plus. Enjoy!