100% greek tzatziki with grilled pita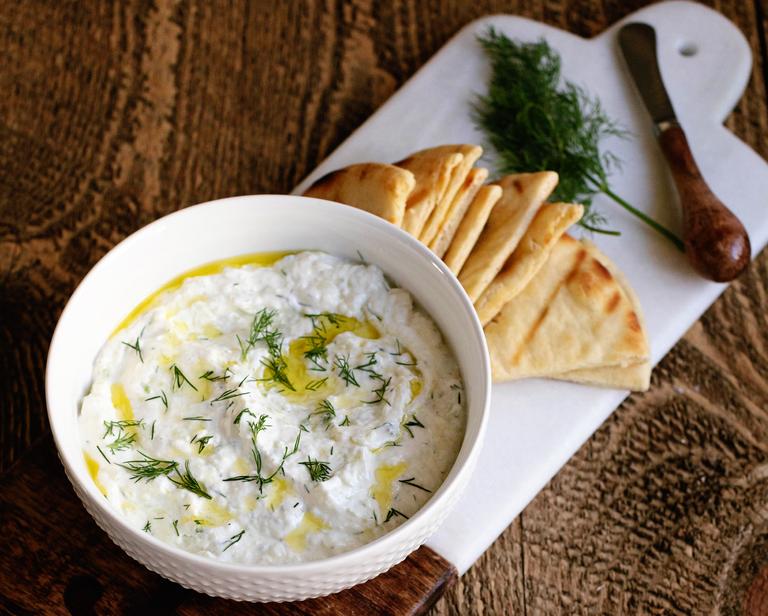 from the kitchen of mrs. pete's
Essentials
2 cups whole fat yogurt strained
2 garden cucumbers; peeled, cut lengthwise, deseeded with spoon
2 garlic cloves, minced
2 tablespoons white vinegar
½ teaspoon sea salt
½ teaspoon crushed black pepper
1 tablespoon chopped fresh dill, plus ½ teaspoon for garnishing
3 tablespoons mr. pete's, plus 1 tablespoon for drizzling on tzatiki and 1/2 tablespoon for pitas
2 pitas cut into 6 wedges

Process

Place whole fat yogurt in strainer over bowl, let sit for at least 15 minutes while prepping additional ingredients. Place cucumbers in food processor, pulse until minced. Add minced cucumber to cheese cloth, squeeze tightly to remove excess liquid. 


Add the yogurt, cucumber, garlic, sea salt, black pepper, fresh dill and white vinegar in a large mixing bowl. Mix in 3 tablespoons of mr. petes olive oil.
 

Stir all the ingredients together.

 

Garnish with fresh dill and drizzle mr. petes's on top. Chill tzatziki in fridge for 15 mins, until it sets.






Brush pita with mr. pete's, toss on medium to high heat skillet for 2-3 mins per side.

 




Cut pita in quarters. Serves 4. Enjoy!