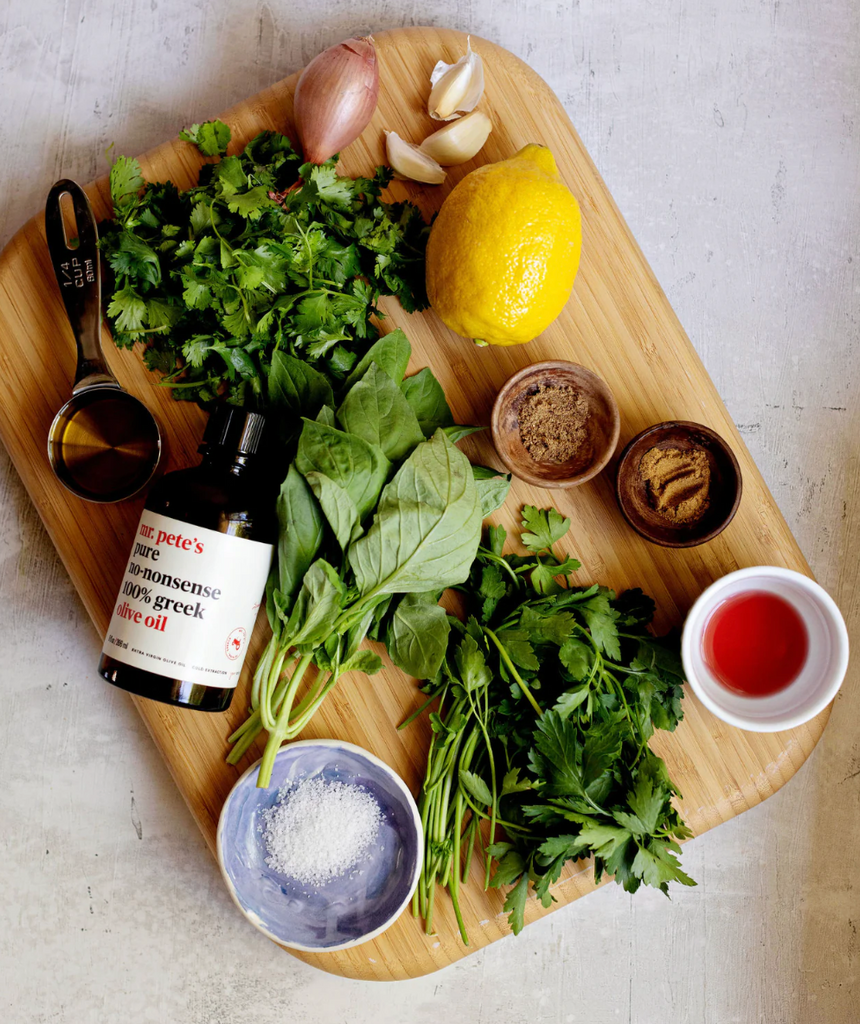 from the kitchen of mr. pete's
Essentials

3 
cloves garlic, chopped

1 medium shallot, chopped

1 
tablespoon red wine vinegar

1 
tablespoon freshly squeezed lemon juice

1/2 
cup packed fresh parsley leaves

1/2 
cup packed fresh basil leaves

1/4 
cup packed fresh cilantro leaves

1/4 
cup mr. pete's olive oil

1/2 
teaspoon ground coriander

1/2 
teaspoon ground cumin

1/2 
teaspoon 
kosher salt
Process

Marinate the garlic and shallot. Combine the garlic, shallot, vinegar, and lemon juice in a small bowl and set aside for 10 minutes.

Process with the herbs. Transfer the garlic mixture (including liquid) to a food processor fitted with the blade attachment or blender. Add the parsley, basil, and cilantro and pulse to finely chop.

Add the oil. With the motor running, drizzle in mr. pete's olive oil in a thin stream. This should take about 1 minute.

Season. Stop the machine and scrape down the sides. Add the coriander, cumin, and salt. Pulse once or twice to combine.

Use or serve. Use the sauce as a marinade, or serve over grilled or roasted meat. Enjoy!